LJUBLJANA CHAIR
This lightweight, modular system allows different types of seating to be built. Short lounge chair or long public bench - two different Ljubljana modules (with backrest and without backrest) offer endless design possibilities.
LJUBLJANA CHAIR is quick to construct and quick to change; unique and diverse in its capabilities to modify its design as many times as the end user chooses to.
The system features slices that are connected with a thread rod to create seating isles for different interior settings. An outdoor version with UV treatment is available (on request).
Material: ARPRO EPP (Expanded Polypropylene), a lightweight high performance plastic foam which is 100% recyclable, toxin-free, emission free, hypoallergenic, shock absorbing, extremely lightweight and therefore very easy to handle.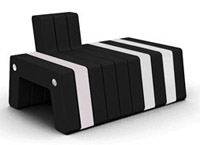 Available in various colours on request: black, white, silver-grey, magenta, orange, green, blue, yellow.
Dimensions:
Design: Asobi