Ronen Kadushin's homage to Alvar Aalto's 1936 Savoy vase adds a fresh and minimalist touch to the familiar, elegant and flowing curves of the commonly known classic.

Called Flataalto, because it simply is a flat version of Aalto's vase. The flower holder is comprised of one sheet of laser cut steel, which is then bent into shape by hand.

The Flataalto vase is an undemanding item, which allows the flowers to take precedence, while still being attractive in its own right.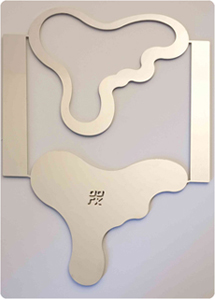 Material: 1.5 mm stainless steel
L: 24 cm
W: 17 cm
H: 18 cm

With the use of a simple drinking glass or any other receptacle, flowers are arranged with ease.


Design and Production: Ronen Kadushin
Manufactured in Germany.