Skyroom Moskito
Versión española estará disponible en breve.
The elegant solution - the Moskito SKYROOM is a flexible room-in-room system, which transforms any space into a comfortable insect free and mosquito proof summer lounge with a blissful privacy.



The Moskito SKYROOM is perfect for beach houses, where it allows you to enjoy the sunset and have a peaceful dinner without being disturbed by insects.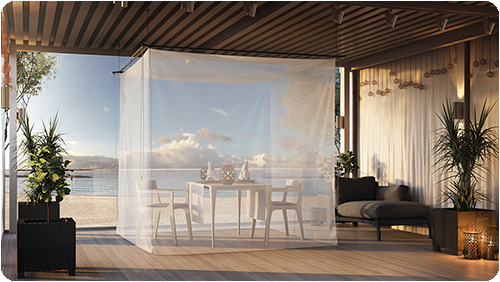 HOW DOES IT WORK
The "Moskito SKYROOM" unfolds with a magical, origami-like rotation to create a 3dimensional temporary space.
When not in use, the room elegantly folds back to create a pleasant baldachin under which one can rest and relax.
The playful ease that lies behind this lightweight room-in-room system is not only functional, but is also a real eye catcher.



"Moskito SKYROOM" in a private loft, where it defines and separates the private bed area.When not in use, the folded cloth creates a baldachin and turns the sleeping area into a pleasant and cosy place.


The system offers effective protection against annoying mosquitoes and other insects, without compromising on high-end design and playful functionality.
WHERE IS IT USEFUL
The "Moskito SKYROOM" is easy and fun to handle, which makes it an ideal product for a number of different environments, from private homes to hotels, beach houses, lodges and wellness resorts, offices, exhibition spaces, restaurants and catering events, lounge areas and bars, for example:
Private homes: bedrooms, living rooms, lofts and open space studios, covered terraces and pergolas


Hotels and beach houses: bedrooms, lounge areas, covered terraces, restaurants, Spa areas, resorts


Offices: temporary meeting rooms, shared office spaces for temporary privacy (soon available with special textile)


Events: rest and retreat areas, used as projection screen, veiling / revelation for show effective presentations (soon available with special textile).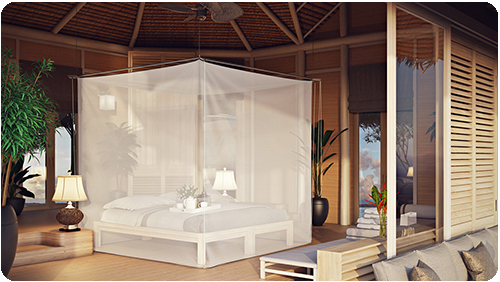 "Gorgeous hotel but big mosquito problem" (comment from Tripadvisor)
The best for the guest – the SKYROOM mosquito cube offers a stylish and elegant solution for hotels and bedrooms where insect protection is needed.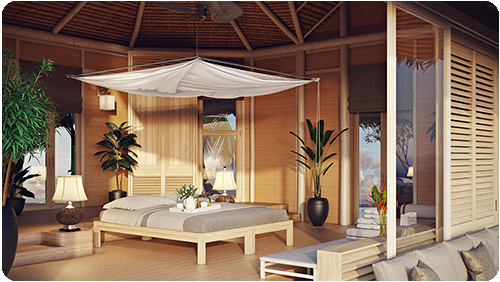 Design: Nils Bennett
Material:

Powder coated metal frame.
Mosquito net (PES).
Colours:
Metal frame available in: white, anthracite, black
Mosquito net: white, black
Mosquito net seam binding on top and bottom: white, beige, cream, yellow, red, wine red, green, dark green, blue, black
Dimensions:
Dimensions of mosquito net cube in cm: L 220 x W 220 x H 220
Dimensions of metal frame in cm: L 250 x W 250 x H 2.
Weight: approx. 20 kg (incl. metal frame)
Technical information:
Mounting: 4 point suspension from ceiling
Minimum ceiling height needed to mount the SKYROOM: 240 cm
Innovative, hand-operated pull rope system
Packaging dimensions: 120 x 60 x 60 cm
Manufactured in Germany.