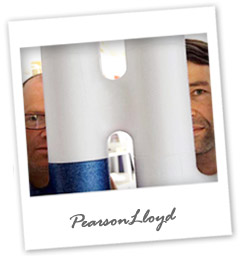 PearsonLloyd is a London based design studio founded by Tom Lloyd and Luke Pearson in 1997.Since then, the London based practice has worked across the aviation, workplace, urban design and healthcare sectors with a goal to identify and respond to the shifting patterns of behaviour in contemporary life.
The studio takes a collaborative approach to its work, embracing the restrictions imposed by production, the market, and all the other factors that define a brief. Its work is grounded in research, and at the core is an attempt to understand the relationship between a product, its place, and the way people use it.
In 2008, Tom and Luke were awarded the distinction of Royal Designers for Industry by The Royal Society of Arts, and in August 2012 were named in the top 50 designers 'Shaping the Future' by Fast-Co Magazine in New York.
PearsonLloyd are the designers of the LINK partition